Thursday 15 November – Brisbane
Lighting Council Australia recently hosted a panel discussion on improving participation in the Exitcycle scheme. Four industry panellists participated and shared their views with a diverse audience. The panel was chaired by Professor Andrew Zele, a researcher who specialises in the physiological effects of light on the human body.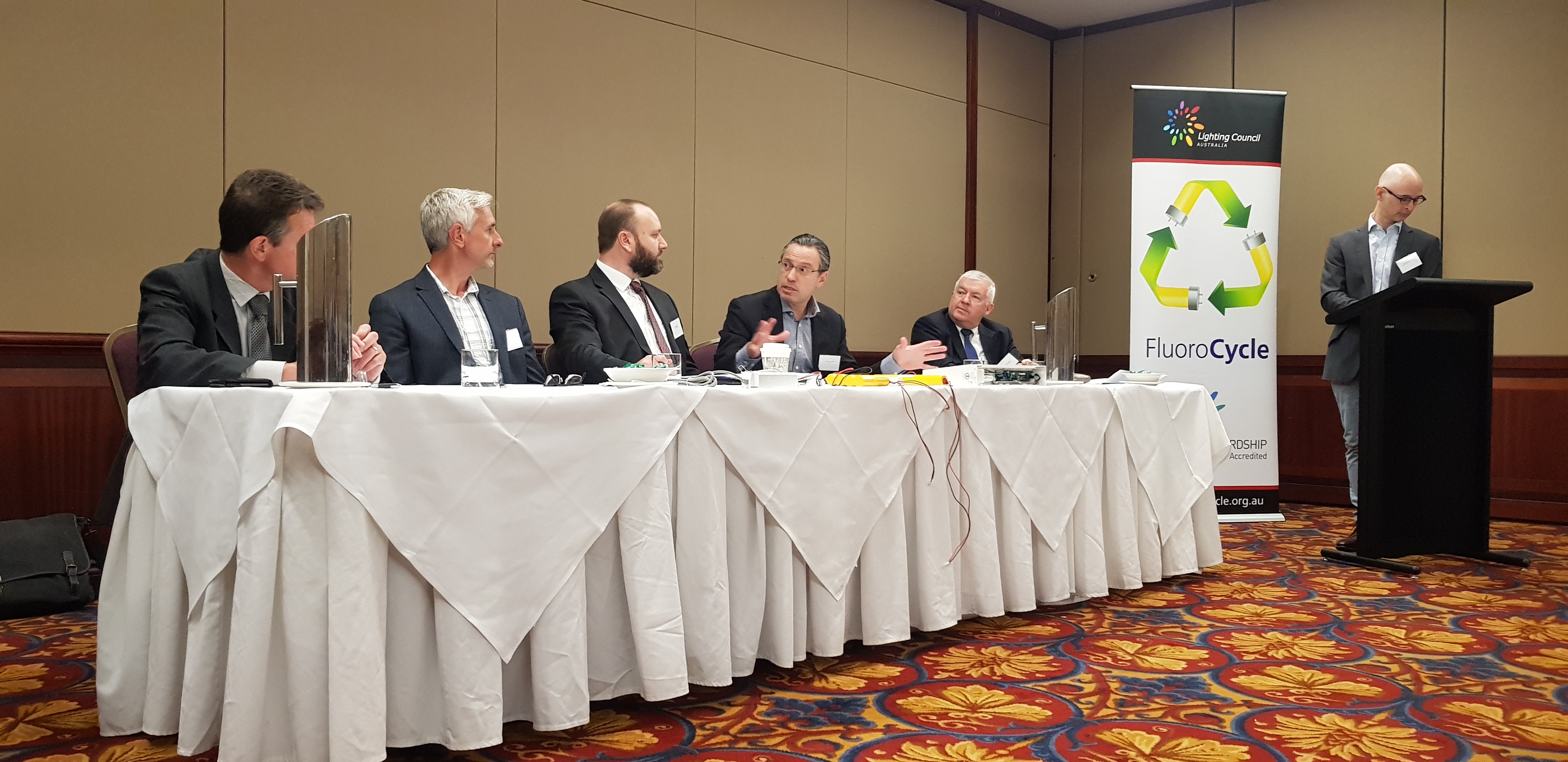 Attendees were from many roles in the value chain, including suppliers, contractors, specifiers and end users as well as representatives from the Queensland Government.
Daryl Moyle, Business Development Manager of CMA Ecocycle, and John Polhill, National Development Manager of Envirostream, were able to share a global perspective on Australia's battery recycling rates, being the worst of any developed country at as low as 5-10%. This compares very poorly to the world leaders being Belgium at 75%.
Suppliers Niel De Jager, Managing Director of LED Group, and Eduardo Yudowski, Group Marketing Manager of Evolt, provided the state of the market in terms of emergency and exit lighting products. While suppliers have transitioned to longer-lasting batteries with less harmful chemistry, the reality is that exit and emergency lighting batteries are on par with the national average in recycling rates. Suppliers are also pushing towards designs that allow an easy change-out of batteries, to incentivise minimising e-waste.
Panellists and attendees discussed the barriers to recycling for Australians from different perspectives. The high cost of labour in comparison to the low cost of products, coupled with little accessibility to collection locations means that recycling for electrical contractors is not only difficult to coordinate, but can be a financially disadvantageous. A lack of awareness in facilities managers and electrical wholesalers also act as barriers. Growth in participation in the scheme will increase awareness from key stakeholders and, in turn, increase battery recycling rates in Australia.
https://exitcycle.org.au/wp-content/uploads/20181114_103733-e1542257647356.jpg
1955
1955
admin
https://exitcycle.org.au/wp-content/themes/ausweb/assets/images/exit-cycle.png
admin
2018-11-14 15:52:40
2018-11-15 16:21:45
Recyclers and Suppliers join for Panel Discussion